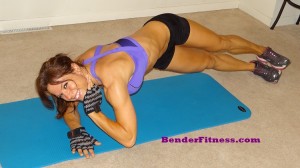 Hi Everyone!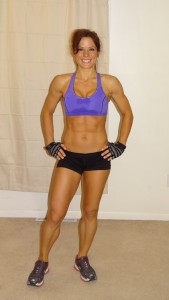 Today is my birthday so I am sharing two throwback workouts! These are my birthday workouts from the past two years. Last year my birthday was a week before my first NPC Bikini Competition. 

I am not going to be breaking tradition this year. I will be filming a new workout today, and I already got in a great run (4 miles, with a 1 mile cool down). 

It may sound crazy, but I love working out on my birthday. I want to welcome every new year feeling fit and healthy. It means that I will have the strength and energy for anything new that comes my way. 

Check back later for this years new birthday workout!

Have fun!
Melissa
PS Don't forget to check in on Facebook, Instagram or Twitter after your workout!

Beginner: 10 reps
Intermediate: 15 reps
Advanced: 20 reps

1. Side Froggers
2. Twisting V-Up
3. Sumo Pushups
4. Lunge Jumps
5. Knee Cross to Elbow (right)
6. Angel Abs
7. Knee Cross to Elbow (left)
8. Side Plank Twist (right)
9. Side Plank Twist (left)
10. Curtsy Lunge Twist
Beginner: 10 reps, 30 seconds timed
Intermediate: 15 reps, 45 seconds timed
Advanced: 20 reps, 60 seconds timed

1. Jumping Pushup
2. Forward Fold Leg Lift (right)
3. Forward Fold Leg LIft (left)
4. Mountain Climber (timed)
5. Forward Backward Lunge Hop (right)
6. Forward Backward Lunge Hop (left)
7. Burpee
8. Angel Abs
9. Chair to Chair II
10. Chair Taps