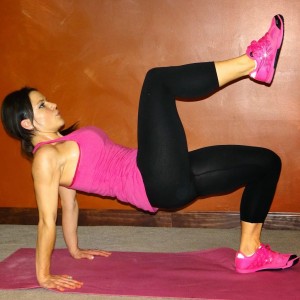 Hi Everyone!

This is Day 24 of the 30 Day Workout Challenge! Thanks for sticking with me! 

Today's workouts is a full body workout routine. One round takes 15 minutes (Jesse and I have tons of holiday fun going on so it was only one round for me today). For this workout all you need is your body and a chair, step, or sturdy surface to step up on. 

Full body workouts are my favorite. A lot of research has supported the idea that multi-joint movements like you can find in this workout maximize the impact of your workout. Full body routines like this one can also support full body health, muscular balance and strength without over-training. 

Interval style workouts allow you to work at your own pace. If you keep track of your reps (a workout notebook comes in handy for this, or a note on your phone) you will be able to see the progression of your strength when you repeat this workout on a future date. Remember, go at your own pace. It should be challenging for you! Challenge creates strength, change and results. 

Enjoy the workout! I will see you tomorrow for Day 25!
Melissa


Don't forget to check in and let me know how you're doing, and if you're keeping up with the challenge! You can check in on Facebook, Instagram, or Twitter. 
10/50 Second Intervals (10 rest, 50 max reps)

1. Lunge Hop (right)
2. Lunge Hop (left)
3. Sit to Stand
4. Side Step Up (right)
5. Side Step Up (left)
6. Modified Handstand Push-up
7. Dips
8. Dive Bomber
9. Plank Press
10. Rotating Plank 
11. Criss Cross Leg Lift
12. Bridge/Table March
13. Angel Abs
14. Plank Reach (right)
15. Plank Reach (left)