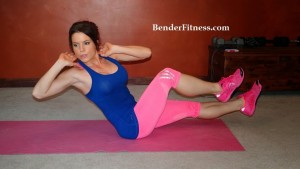 Hi Everyone!
This is Day 20 of the 30 Day Workout Challenge! This workout is focused on burning fat, and toning the mid-section. One round takes 15 minutes, and can be repeated.
I followed this up with a 1 mile walk on the treadmill. I was feeling a little bit tired today, so I listened to my body and kept the total workout a little bit lighter. I felt great after getting in some exercise, and my energy improved a lot.
I have really enjoyed jumping rope lately so I chose that for my cardio bursts today. Other options include: high knees, mountain climbers, froggers, jumping jacks and jump squats. Varying the cardio bursts will change the intensity of the challenge.
Enjoy the workout! I'll see you tomorrow for Day 21!
Melissa
10/50. 10 Seconds of Rest, 50 Seconds Max Reps

1. Jump Rope
2. Unicycle (right)
3. Jump Rope
4. Unicycle (left)
5. Jump Rope
6. Superman Roll
7. Jump Rope
8. Seated Leg (or Knee) Raise
9. Jump Rope
10. Leg Raise Hip Twist
11. Jump Rope
12. Tick Tock Abs
13. Jump Rope
14. Starfish V-Up
15. Jump Rope