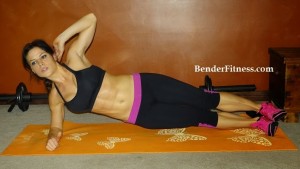 Hi Everyone!

It's day 10 of the 30 Day Workout Challenge. This workout is all about the core, and toning the mid-section. It only takes 15 minutes, but it works the core from every angle.

This was my second workout of the day. Jesse and I taught a boot camp class tonight. I really felt today's workout after the 15 minute Cardio Fat Melting workout yesterday. I will film a variation of the boot camp workout we taught, but I wasn't up for another full round tonight. 🙂

I hope you all enjoy the workout! See you tomorrow for Day 11!
Melissa

PS Great check-in updates for your workouts! You can check in on Facebook, Instagram or Twitter.
10/50 Intervals. 10 seconds of rest between exercises, 50 seconds max reps.

1. Mountain Climbers
2. V-Up
3. Russian Twist
4. Heel Press
5. Down Dog Plank
6. Ab Angel
7. Cheek to Cheek
8. Side Plank Hip Lift (right)
9. Side Plank Hip Lift (left)
10. Bicycle
11. Prone Knee Lift (right)
12. Prone Knee Lift (left)
13. Hip Lift Hook
14. Scissor
15. Plank Step Out