Beginner: 10 reps
Intermediate: 15 reps
Advanced: 20 reps

1. Scissor Situps
2. Extended Heel Tap
3. Lift and Tuck
4. Balanced Side Crunch (right)
5. Balanced Side Crunch (left)
6. Hip Lift Circle
7. Bicycle
8. Reverse Crunch
9. Side V-Up (right)
10. Side V-Up (left)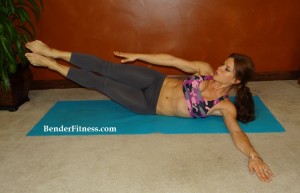 Hi Everyone!
This was my workout last night. It's completely focused on core. My tush was sore for two days after Lower Body Blast: Burn, Sculpt and Shape. Normally I don't get sore (maybe 1-2 times per year. Jesse says it's proof that I am an Amazon, haha). I enjoyed the soreness, but it was a great reminder to keep up the challenges.
This workout kept me from overdoing it with my glutes. I also went for a run to get rid of some of the lactic acid build-up in my muscles. Sometimes when your muscles are sore the best way to help them heal is to get moving (as long as you don't over do it!)
Enjoy this workout! I will see you later with a new one. 🙂
Melissa
PS My motivation is going full force so I will have some exciting new goals to share with you!