Beginner: 10 reps
Intermediate: 15 reps
Advanced: 20 reps

*Unless otherwise noted.

1. Hanging Leg Raise
2. Decline Pushup
3. Sprint (one) (1 minute jump rope can be substituted)
4. Hanging Leg Rotations
5. Surfer
6. Sprint (one)
7. Tick Tock Hang
8. Walking Lunge Lift
9. Sprint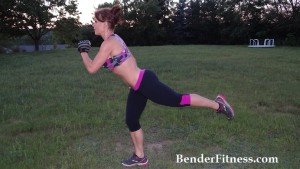 Hi Everyone!
Yesterday I had to go outside and enjoy the weather! It was so beautiful that I switched up my workout plan and decided to use the playground for my workout. 🙂
It was a great reminder that you can find ways to be fit and live a healthy lifestyle where ever you may go.
Today is the third anniversary of the day Jesse and I got married so I am going to head outside and get in a quick run while he is still at Cross Country practice. I am taking the rest of the evening off. See you all tomorrow!
Melissa