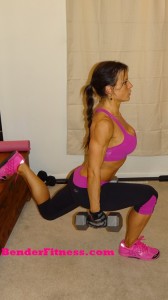 Hi Everyone!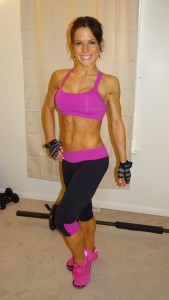 Tonight's workout is focused on the tush! It's all about toning and shaping your backside, and lower half. I combined this workout with a 30 minute run at a comfortable pace. It's cold outside again and I was already sweaty so I hopped onto the treadmill.

I can't wait until it's warm again and I can get outside more! I repeated tonight's workout 3X. It was a great challenge. It is fun to incorporate some weights sometimes. Of course this workout can also be done with body weight.

One of the moves is a box jump. If you don't have something sturdy to jump on a great alternative is a squat jump.

On another note, I enjoyed my first NPC competition so much that I have decided to do another one! To help me prep my sponsor Total Nutrition Mansfield sent me a care package.

They sent me BCAAs (branched chain amino acids) to take pre-workout. Protein for after my workouts, and a water soluble multi-vitamin that is more easily absorbed into the body than traditional vitamins in pill form. Everything tastes delicious! I have the protein in vanilla and chocolate cake. I can't decide which one I like better! I will be writing a whole post on the supplement program that I am using for the next four weeks to prep for my next show. I will keep you updated on the results and let you know what I think.

In the mean time, enjoy the workout!
Melissa

Beginner: 10 reps
Intermediate: 15 reps
Advanced: 20 reps

1. Kettlebell (or Dumbbell) Swings
2. Warrior Deadlift Press (right)
3. Warrior Deadlift Press (left)
4. Squat
5. Box Jump
6. Split Squat (right) (half reps)
7. Split Squat (left) (half reps)
8. Leg Extension (prone)

Repeat 1-3X.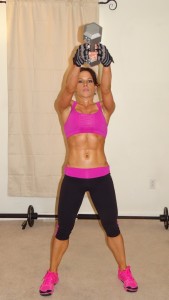 DumbBell or Kettle Bell Swing: Back stays straight. Arms extend with the weight. Glutes squeeze as you press through the hips.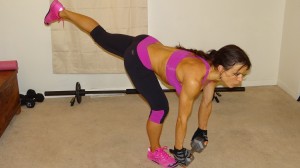 Warrior Deadlift Press: Part 1. Warrior 3 Pose with weight. Back leg extends, back is straight, bed at the hips. Slightly bed standing leg to reach weight toward the floor.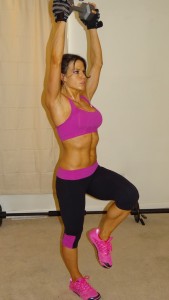 Warrior Deadlift Press Part 2: Come to standing and press weight overhead. Shoulders stay relaxed and should not arch toward ears.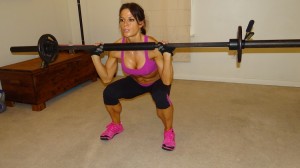 Squat: Front Weight. Thighs come to parallel. Hips press backward. Knees stay behind toes. Press up through the heels and glutes to return to standing.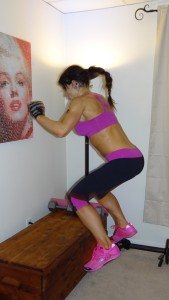 Box Jump: Start in a Squat. Jump up onto box (or substitute jump squat). Return to starting position.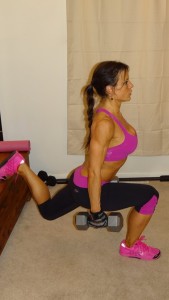 Bulgarian Split Squat: Knees stay behind the toes. The movement is up and down. Knees stay behind the toes. Toes of the extended leg are pressed down into the bench or chair behind you.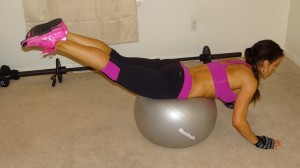 Prone Leg Extension. Keeping feet together, extend legs, lifting through the glutes. Hips are placed over the stability ball, arms are lightly extended to the floor in front of you. This move can also be performed while lying on the floor.