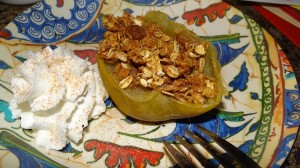 Hi Everyone! 
I was craving something delicious and sweet this weekend. This recipe satisfied my craving, and was a healthy option for dessert (or a snack). It is very easy to make, and tastes good with red or green apples. Just make sure you use an apple appropriate for baking!
Enjoy! The recipe is below!
Melissa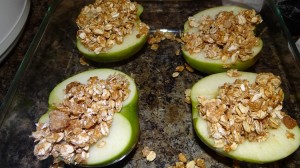 Ingredients:
-2 Large Apples cored and cut vertically
-1/2 cup Raw Oats
-1/4 cup Stevia (minus one tablespoon)
-1 tablespoon brown sugar
-1/4 teaspoon sea salt
-2 Tablespoons plus 1 teaspoon creamy peanut butter
Preheat Over to 400 degrees. 
Mix all dry ingredients in a large bowl. Pinch in the peanut butter until the mixture is evenly spread. 
Spoon the filling into the center of the apples. 
Cover with tinfoil and bake for 45 minutes, or until desired firmness is achieved. Remove tinfoil and cook 5 additional minutes to ensure the oats reach a slightly crispy "crumble" consistency. 
Remove and allow to cool for 5 minutes. 
Jesse had his apple with whipped cream, and I had mine with cottage cheese sprinkled with cinnamon. Remember, the longer you cook it the softer it gets. You can check your apple by piercing it with a fork.