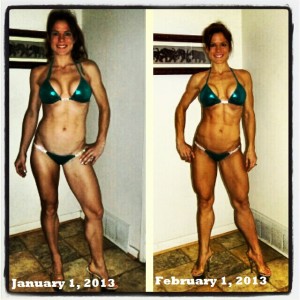 Hi Everyone!

I have mentioned in a couple of my posts that one of the goals I have set for myself this year is to compete in a fitness competition. I have chosen the 2013 NPC Natural Eastern USA Championships for my first show. 

This is a very different challenge for me, as all of my fitness goals are typically related to improving my ability to complete an activity or exercise. For this type of competition the focus is on the physique. 

I have decided to compete in the Bikini Division. This has been a great motivation to help re-focus my workouts. I gained some weight over the holidays. Between starting a new job, cold winter weather, and extra demands on my time I didn't get to workout as much as I'd like. In November and December I shared only 15 workouts per month. Typically I share 24-28 workouts per month. Remember, all of the workouts that I share here, are the actual workouts I do to stay in shape. Add in all of the holiday (and birthday) sweets I was eating, and I had some holiday weight gain. 

From January 1st-February 1st I lost 5 pounds. All of my January workouts are posted, plus from January 14th on I averaged 30 minutes of cardio (either running or walking) per day. For the month of January, I posted 23 different workouts. I also averaged between 1900-2000 calories per day, of primarily clean, whole foods. Everyone has different caloric needs, but I am a firm believer in getting enough good calories if you want to boost and optimize your metabolism. Also, the quality of calories makes a big difference. 2000 calories of healthy, balanced meals is very different from 2000 calories of processed foods. 

Five pounds may not sound like a lot of weight loss, but when you lose 5 pounds of fat, and eat/exercise enough to maintain your muscles the physical differences can be very noticeable.  Remember this picture?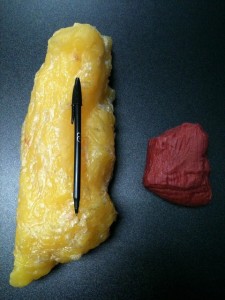 5 pounds of fat vs. 5 pounds of muscle
I will keep you posted along the way as I try my first competition. It will be a learning experience as I haven't undertaken anything like this before. I will also be sharing more photos/posts about my meals. 
For any ladies out there that have competed (or are planning to compete!) please feel free to share your experiences. For anyone else that doesn't want to compete, but wants to be fit and healthy, that is still my main focus. Healthy choices are always the number one priority for me. 
As always, thanks for joining me on my fitness journey.