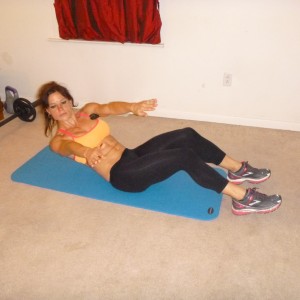 Hi Everyone,
I hope you all had a fabulous Halloween! My Halloween workout is finally finished uploading (6 hours later!) I hope you enjoy it! Even though it's after Halloween, you can use it to help burn off any of that Halloween candy you may have eaten!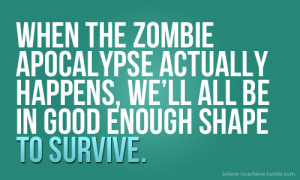 I chose a lot of moves based on Halloween costumes, and the rules of Zombieland. Don't forget rule number one: Cardio! Before filming today's workout I ran with the cross country team. I did 3 miles and a 600 meter stride (faster than race pace, slower than a sprint). When I got home I went through this workout. I had a good time coming up with Halloween inspired workout moves. Take a moment to imagine yourself as Buffy the Vampire Slayer, and put all of that energy into your workout. If you want some extra motivation you can always turn on an episode of the walking dead, and use the sound effects to keep you moving. 🙂
I hope you guys have some fun with today's workout. It's still a nice full body challenge. I liked the Rockette kicks. I will definitely be bringing them back for a future workout.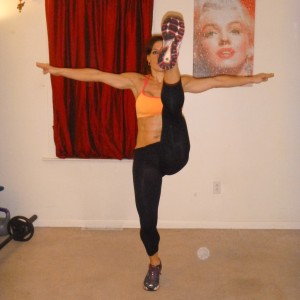 I posted a picture below of me in my Halloween costume. A lot of people thought that I was Sailor Moon, but I was actually Baby Doll from Sucker Punch. It was a fun costume! Feel free to share your costume pics on my facebook page. I also posted some fun pictures on facebook of Jesse in his Batman costume, and my sister's dressed as Wilma and Pebbles Flintstone.
I hope you had a fun Halloween! Enjoy the workout!
Melissa aka Baby Doll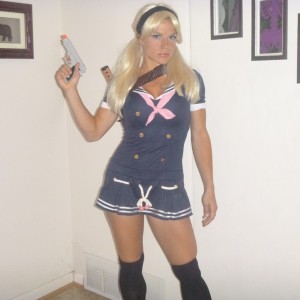 Beginner: 10 reps
Intermediate: 15 reps
Advanced: 20 reps

1. Jump Rope or High Knees
2. Romanian Deadlift
3. Zombie Situps
4. Spiderman Push-ups
5. Superman
6. Ninja Jumps
7. Mountain Climbers
8. Rockette Kick
9. Walk the Plank
10. Back Bend

Repeat 1-3X