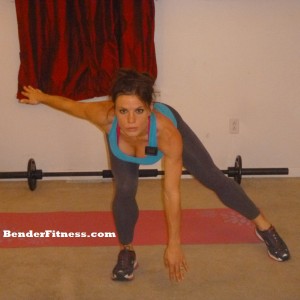 Hi Everyone!
Today's workout is quick and easy to fit into your schedule. I repeated it, but another option would be to fit it in a couple different times during the day (surely you can find 12 minutes somewhere!)
It's an interval workout and utilizes cardio bursts in between each exercise. For round 1 I jump roped, for round 2 I did high knees.
Interval workouts are a great way to get your heart rate up, and optimize your fat burn. This style of workout actually leads to increased fat/calorie burn for hours after your workout.
The breakdown is below the video. 🙂 Have a great night! Also, if you're on facebook please vote for me in Fitness Magazine's Face of Fitness contest. I am one of 10 finalists for the Reader's Choice Award, and the winner is automatically one of 5 grand prize finalists. Vote Here and be sure to like my facebook page while you're at it! Melissa Bender Fitness
Melissa
All Levels: max reps during each 50 second interval, 10 seconds of rest.
*I am writing jump rope, but you can also choose to march in place, do high knees, or even mountain climbers.

1. Jump Rope/High Knees/March in Place (depending on current level of fitness)
2. Side Lunge Jump
3. Jump Rope
4. Mountain Jumper
5. Jump Rope
6. Squat Jump
7. Jump Rope
8. Prone Heel Lift
9. Jump Rope
10. Low V-Up
11. Jump Rope
12. Plie Pulse