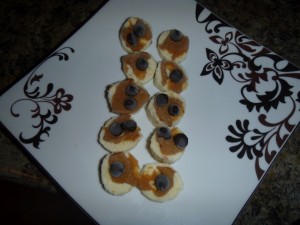 Hi Everyone!
Today I was craving the Dark Chocolate Bananas Josh made for me. If you click on that link it will take you to his recipe. I decided to make a quick version of his snack.
All you need is:
1 Banana (sliced)
About 1 Tablespoon of Natural Peanut Butter
1 Tablespoon of dark chocolate chips
I sliced a banana, smeared each slice with some natural peanut butter (I used Smucker's) and then topped it with dark chocolate chips. I keep the chocolate chips in the freezer, so they look like frozen blueberries in the picture (which I think would be a delicious addition or substitution in this recipe!)
It's healthy, delicious, and totally satisfied my craving for sweets. After topping the peanut buttered banana slices with dark chocolate chips I placed them in the freezer, on a sheet of waxed paper.
Once they are frozen you have a delicious, sweet snack!
Enjoy!
Melissa