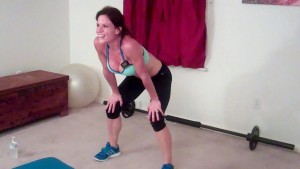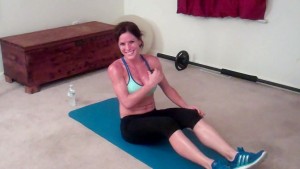 Hi Everyone!
I'm back, and I'm feeling much better today! I didn't feel like yesterday's illness slowed me down too much, but it may have a little bit. I actually felt pretty darn good when the workout was over.
Soon I will do a 20 minute HIIT workout video. Many studies have suggested that 20 minute HIIT workouts result in optimal fat burn. I would recommend doing a nice 5 minute warm up before doing this workout (maybe jump roping!) Also, be sure to cool down. You will be working at a high level so you don't want to shock your body by just stopping. You can walk or march in place as your heart rate lowers.
I hope you guys enjoy the workout!
Melissa
All Levels: Maximum number of reps during each 50 second interval, 10 seconds of rest between exercises. You can lower this to 20 seconds of work, and 10 seconds of rest if this is too much to start with. Also, always listen to your body. If you need a break take one. Keep track of your reps, and you will be able to see how much you improve as you repeat this workout.

1. High Knees
2. Frogger
3. Lunge Kick (right)
4. Lunge Kick (left)
5. Jumping Jacks
6. Jump Squat
7. Mountain Climbers
8. Plie Jump
9. Plank Jack
10. Ninja Jump
11. Burpee
12. Low Jack
13. Side Step Up (right)
14. Side Step Up (left)
15. Twister