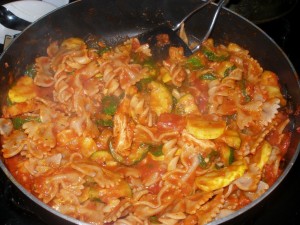 Hi Everyone,
I have been obsessed with this pasta. I ate it for breakfast yesterday, and as a snack just now. I like it hot or cold. It's delicious, flavorful, and healthy. Squash has a ton of health benefits, and is low in calories. It also helps you to feel full longer due to it's high water content.
This recipe has squash, zucchini, and spinach, so it's loaded in vegetables. You can keep it meat free and have a healthy vegetarian meal, or you can add chicken. I stopped at my local farmers market to get some local produce at great prices.
This meal is simple, healthy and quick, my favorite combination!
Enjoy,
Melissa
Nutrition Info (based on 5 servings without chicken):
Calories: 312
Carbs: 57
Fat: 6 grams
Protein: 10 grams
Fiber: 9 grams
Ingredients (Serves 5-6):
1 Teaspoon Extra Virgin Olive Oil
Minced Garlic
Italian Seasoning
1 small to medium Zucchini
1 small to medium yellow Squash
2 1/2 cups of Spinach
1 Jar Sauce of your Choice (I used Grandessa Tomato Basil Sauce)
4 Cups of Whole Wheat Pasta of your Choice (I mixed bow tie and rotini)
Optional: cooked chicken, cut into small strips or cubes
As you cook the sauce, boil water, and cook the pasta at the same time. By the time the pasta is ready the sauce and vegetables will be done.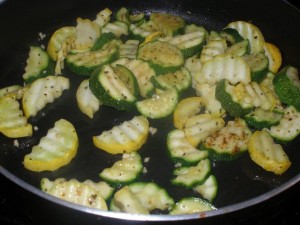 Warm olive oil in pan, add a touch of minced garlic, squash and zucchini. Sprinkle a bit of Italian Seasoning over your vegetables. Cook over medium heat until vegetables start to soften.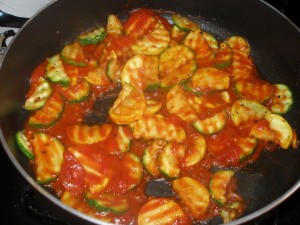 Add sauce to the vegetables and continue to cook on low, allowing the vegetables to soften further.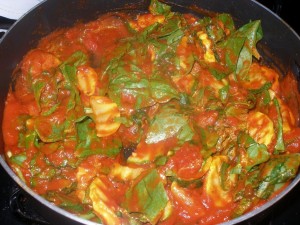 Add Spinach and continue to cook on low until spinach wilts. To speed up this process you can cover the pan. Be sure to stir to ensure sauce is heated evenly. You can add cooked chicken at this point if you desire.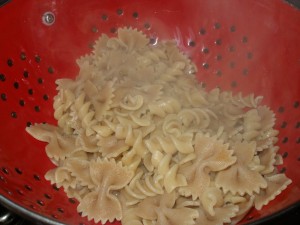 Follow the cooking directions for your pasta, and strain when ready. Add pasta to the sauce and vegetable mixture. Stir until pasta is evenly coated.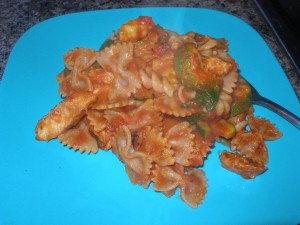 Serve and enjoy!
P.S. Squash is easy to grow! If you enjoy it you should consider planting some. 🙂