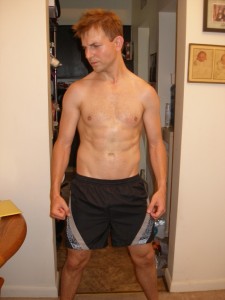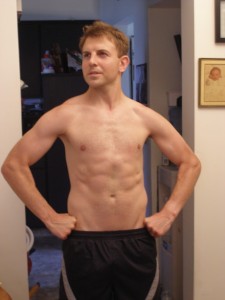 Hi Everyone!
I hope you all had a great weekend! The Bender household was very busy (in a good way!), but we are back to our regular schedule now. 
I wanted to take a minute to say that my workouts aren't just for the ladies out there. Men can get really great results with these workouts. Jesse is a runner, but he does my workouts for his strength training, to increase his VO2 Max and fast twitch muscles, and to get the definition that he wants. The lean muscle mass that he gains through these workouts doesn't slow him down, but provides postural strength and muscle endurance for long distance running. Plus he looks darn good! 
The video below is an older workout, but it is one of my favorites. My friend Tony is a body builder and he found this workout very challenging. At the end of the video you can see Tony and Jesse having a grand old time during the workout. 
There will be a brand new video today so be sure to check back!
Melissa
1. 1 leg jumping pushups: every pushup = 1 rep.
Beginner: 15
Intermediate: 20
Advanced: 25

2.       High knees
Beginner: 30 seconds
Intermediate: 45 seconds
Advanced: 60 seconds

3.       Squat jumps
Beginner: 15
Intermediate: 20
Advanced: 25

4.       Mountain climbers
Beginner: 30 seconds
Intermediate: 45 seconds
Advanced: 60 seconds

5. 1 leg squat right
Beginner: 5
Intermediate: 10
Advanced: 15

6.  Burpees
Beginner: 5
Intermediate: 10
Advanced: 15

7.  1 leg squat left
 Beginner: 5
Intermediate: 10
Advanced: 15

8.  High knees
Beginner: 30 seconds
Intermediate: 45 seconds
Advanced: 60 seconds

9. Sumo pushups: 1 pushup=1rep
Beginner: 15 reps
Intermediate: 20 reps
Advanced: 25 reps

10.   Mountain climbers
Beginner: 30 seconds
Intermediate: 45 seconds
Advanced: 60 seconds

11.   Bow pose kicks
Beginner: 15 reps
Intermediate: 20 reps
Advanced: 25 reps

12.   Burpees
Beginner: 5
Intermediate: 10
Advanced: 15

13.   Leg Lift/Hip Lift/Toe Reach combo (3 part abs)
Beginner: 15 reps
Intermediate: 20 reps
Advanced: 25 reps

14.   High knees
Beginner: 30 seconds
Intermediate: 45 seconds
Advanced: 60 seconds

15.   Side plank drop leg lift (left)
Beginner: 15 reps
Intermediate: 20 reps
Advanced: 25 reps

16.   Mountain climbers
Beginner: 30 seconds
Intermediate: 45 seconds
Advanced: 60 seconds

17.   Side plank drop leg lift (right)
Beginner: 15 reps
Intermediate: 20 reps
Advanced: 25 reps

18.   Burpees
Beginner: 5
Intermediate: 10
Advanced: 15