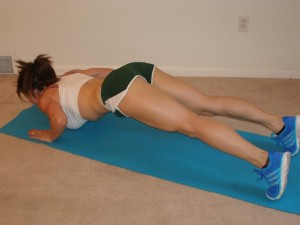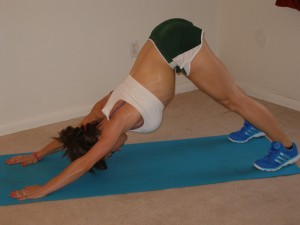 Hi Everyone,
This is the workout I did today. I was talking to my friend, Rose, today and I mentioned to her that I can watch youtube videos through my directv. She has directv and didn't realize that was possible. It makes following along with my workout videos very simple, so I thought I would mention it today 🙂
I thought today's workout was a lot of fun, and I hope you agree. Feel free to let me know what you think in the comments below.
Also, a few changes will be coming to my website soon. I am going to add a Yoga tab with more yoga workouts, update all of the current tabs with the newer videos, and add a tab for the guests I have had featured. Don't forget, the website is going to be www.benderfitness.com permanently. It's re-directing right now, but get used to typing it!
See you tomorrow!
Melissa
Beginner: 10 reps, 30 seconds timed
Intermediate: 15 reps, 45 seconds timed
Advanced: 20 reps, 60 seconds timed

Repeat 2X

1. Jumping Frog
2. Squat Twist (right)
3. Squat Twist (left)
4. Heel Tough Plank
5. Mountain Climber (timed)
6. Heel Tap Reach Abs
7. Bicycle
8. Dive Bomber/Up-Down Dog
9. Back Kick (right)
10. Back Kick (left)
11. Sumo Pushups
12. Side Squat Jump