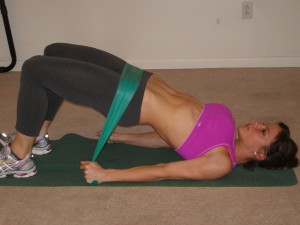 Hi Everyone,
I enjoyed my workout today. I am adjusting to my new work schedule, but I am still a bit more tired than normal. Once I get through my workout I always feel so much better. In this workout I use my stability ball, and a resistance band, but I also show alternative body weight movements. The video is below and my workout breakdown is under the video. 
Today I wanted to take a moment to talk about health. Being healthy is not the same thing as not being sick. In many ways being healthy is a choice. There are many areas in your life where you can chose to be healthy, including exercise and diet. 
Many people would rather deprive themselves of food and nutrition to lose weight than exercise. I have mentioned before that skinny and fit/healthy can be completely different things. People struggle with this in all kinds of different ways. 
What active choices do you make to stay healthy? 
Melissa
Beginner: 10 reps, 30 seconds
Intermediate: 15 reps, 45 seconds
Advanced: 20 reps, 60 seconds

Repeat: 2X

1. Jumping Jacks (or jump rope) (timed)
2. Lunge Kick Right
3. Lunge Kick Left
4. Butt Lift Plank
5. Side Scissor Reach
6. 3-Way Jump
7. Wall Sit Leg Lift (right)
8. Wall Sit Leg Lift (left)
9. Ball Pull Abs
10. Butt Lift Ball
11. Ball Twist
12. Ball Bridge (right)
13. Ball Bridge (left)
14. 1-Leg Ball Pull (right)
15. 1-Leg Ball Pull (left)
16. Resistance Band Bridge