Looking for a super easy, low calorie way to feel full and get plenty of protein? Try this!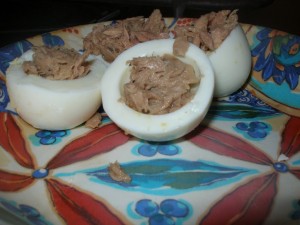 All you need to do is hard boil a couple of eggs, get rid of the yolk, and stuff it with tuna. I used lemon pepper tuna because I love the flavor, and you don't have to add anything else to it.
To boil your egg put eggs in a pan, and cover completely with water. Bring to a boil, and then lower the flame. Allow eggs to boil for about 1 minute. Cover and remove from heat. Leave covered for 10-13 minutes. Drain the eggs, and cover with cool water. You can refrigerate the eggs or eat them as soon as they are cool.
Quick, easy. 94 calories for two eggs stuffed with tuna. 21 grams of protein.