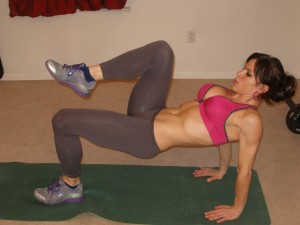 Hi Everyone,


Tonight's workout really focuses on your glutes, hamstrings, triceps, arms, shoulders and back. It's another tough one. I have been really upping the ante with the last few workouts. They are very intense.


After finishing this workout I did one mile on the treadmill (it took 7 minutes, and 4 seconds). I wanted to add an additional quick cardio blast. You can run, jump rope, do high knees, or the 10 minute cardio from the Bombshell Body Fat Burn workout.


Enjoy the workout. Move as quickly as you can from one exercise to the next to really optimize your burn during and after the workout.


Have fun!
Melissa
Ham It Up!


Beginner: 10 reps
Intermediate: 15 reps
Advanced: 20 reps


Add 5-10 minutes of cardio after finishing this workout to really maximize your fat burn.


Tricep Leg Series (right)
Tricep Leg Series (left)
Burpee
Right Pulse Lunge Jump
Left Pulse Lunge Jump
Spin Jacks
Heel Tap Squat Jumps
Hydrant Lift (right)
Hydrant Lift (left)
Booty Push (right)
Booty Push (left)
Cross Step Down Dog (right and left=1 rep)
Lifted Leg Cross Reach (right)
Lifted Leg Cross Reach (left)
Jumping Side Plank
Frog Squat
Tricep Reverse Sit-up