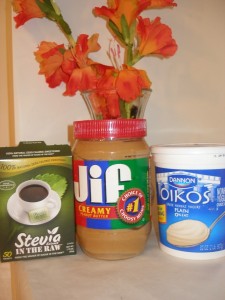 When you're working out and building muscle it's really important to get enough protein. Generally you want to eat 1 gram of protein for every pound of your goal body weight.
Also, protein keeps you full and satisfied throughout the day, which decreases cravings for lower quality foods.
This is one of my favorite high protein, healthy snacks. It takes less than a minute to prepare.
Take 1 cup of 0% plain Greek yogurt, mix it with 1 tablespoon of peanut butter (you can use 2 tablespoons if you want more PB), add 1 packet of Stevia in the Raw or sweeten to taste. Mix it all together and you have a delicious high protein snack!
If I am craving sweets I add a teaspoon of Hershey's special dark chocolate chips, and then it's like having a healthy dessert. It's so filling that it kills my cravings for anything else!
Enjoy!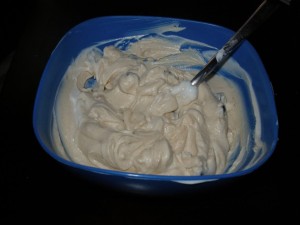 Calories: 225
Carbs: 13 g.
Fat: 8 g.
Protein: 27 g.
Fiber: 1 g.
Calcium: 25 g.