Feta Stuffed Chicken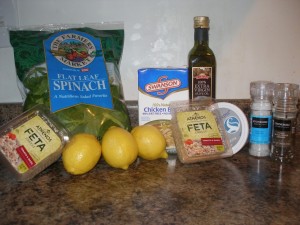 Ingredients:
1/4 cup (1 ounce) crumbled basil and tomato feta cheese
2 tablespoons (1 ounce) fat-free cream cheese (I used whipped cream cheese)
4 skinless, boneless chicken breast halves
1/4 to 1/2 teaspoon black pepper
a dash of salt
1 teaspoon olive oil (I use extra virgin olive oil)
1 10-ounce package of prewashed spinach (8 cups)-I actually use more than this because I really like spinach
2 tablespoons of sunflower seeds (optional)
Lemon slices to garnish
Note: for the pictures I was cooking a dinner party for 12 people. The ingredients above will make enough to serve 4. Also, I was rushing when I took the "finished" picture because everyone was here. It actually looks much nicer than the picture portrays it!
Total Time: 30 minutes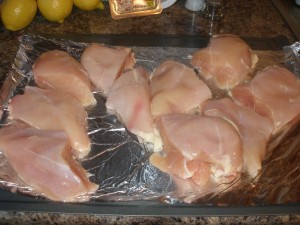 First I lay all of the chicken out on a tray and cut it in half. Then I cut slits in the thickest part of the chicken. This is where we will be putting the cheese.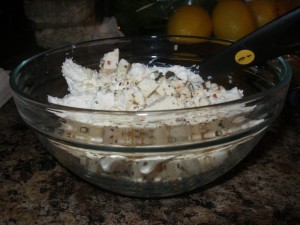 Mix the feta cheese and cream cheese in a bowl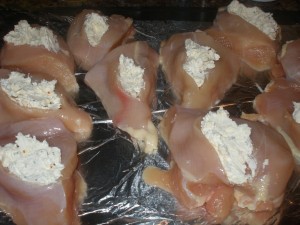 Stuff the pockets with the cheese mixture.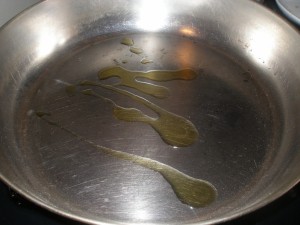 Heat oil and in a large pan on medium high heat. Non-stick pans work best.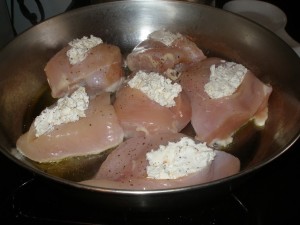 Sprinkle the chicken with a little bit of salt and pepper.
Cook on medium-high heat about 12-15 minutes or until tender, and no longer pink. Reduce heat if the chicken starts to cook to quickly. I cover the pan with aluminum foil to keep the chicken moist as it cooks.
Remove chicken from the skillet, set aside and cover so it stays warm.
People started arriving so I didn't get pictures of the rest, but cooking the spinach is as follows:
Add the broth to the pan you cooked the chicken in (be careful!) and bring it to a boil. Fill the pan with spinach, cover about 2-3 minutes until the spinach wilts. Remove the spinach from the pan (keeping the liquid in the pan) and set aside. Continue this process until you have cooked the desired amount of spinach. If you want to add the sunflower seeds add them, and reheat all of the spinach in the skillet.
To serve divide the spinach, and top with the stuffed chicken breast. I garnish with a lemon for both the flavor and the color. I got the last little bit of spinach you see pictured below. The other plates got a bit more. I made some steamed broccoli to have in addition to the spinach.
It was delicious, satisfying, filling, and no one would have suspected I was feeding them "diet" food.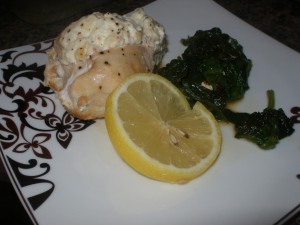 With the nuts this meal has about 231 calories.
This recipe was slightly modified from the Better Homes and Gardens New Dieter's Cookbook (3rd edition, 2003)