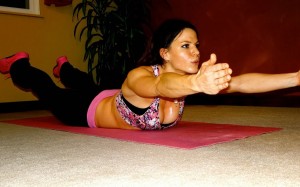 Hi Everyone!

This is Day 26 of the 30 Day Workout Challenge! This is a full body HIIT workout. One round takes 15 minutes, and it can be repeated. 

We are ending the year strong with the 30 Day Challenge, but I want to begin the New Year the same way! One of the goals of the 30 day challenge was to build consistency with your workouts, and create a healthy habit that you can maintain. Lets bring those healthy habits into the New Year. 

I will be doing two challenges to start the upcoming year off strong! The first will be an exercise challenge similar to this one, and the second will be a cardio challenge. You can choose to participate in one or both! 

For all of the runners out there the cardio challenge will be based on hitting a goal number of miles during the month. For non-runners the goal will be based on minutes. I highly recommend getting a notebook or calendar, or even keeping notes on your phone in order to keep track of your workouts throughout the month. 

If one of your goals is to lose weight or lose inches take your measurements and some before photos at the start of the challenge, and again at the end of the challenge. With consistency and healthy food choices you will be amazed at what you are able to achieve in a month! I would love to see your progress so feel free to share your results with me!

Enjoy today's workout and don't forget to check in on Facebook, Instagram, and/or Twitter! 

Melissa

PS I got a brand new competition suit for Christmas, so January is also the kick start to my brand new NPC Competition prep. If you are completing my last 12 week program, or joining me for this one I want to see your results!


10/50 Intervals.
Equipment: Chair or Bench to perform Dips.

1. Superman Lifts
2. Dive Bombers
3. Scissor Leg Lifts
4. Side to Side Squat
5. Squat Jumps
6. Superman Heel Taps
7. Dips
8. Heel Tap Abs
9. Rotating Side Plank Leg Lifts
10. Pulsating Lunge Hops
11. Swimmers
12. Walking Push-ups
13. Temple Tap Abs
14. Chair Pose with Heel Lift
15. Surfers